A few notes of thanks that the foundation has received recently: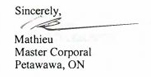 ---
"May 13, 2019
I am much thrilled to hear your organization will support me in this time of recovery. At this time, I would like to extend my appreciation to the Military Casualty Support Foundation (MCSF) for the care while I recover from my injuries.
By awarding me with your support, you have lightened my financial burden which allows me to focus more on the most important aspect of school, learning. Your generosity will enable me to continue with my university studies with less stress and look forward to a successful rehabilitation.
Thank you to everyone that made this possible.
Sincerely,
---

---
"This gift significantly reduces the overall cost of the lift. I went to Afghanistan with the thought of preserving the ideals and freedoms that make my country so beautiful. I cannot help but consider that unknown people helping me to move forward with life after my injury is the highest expression of this."
"I thought for a while about different ways I would say how much your support represents for me. I just could not find the exact words that would signify what I feel inside and words strong enough to say what I want to say. I guess there are many ways to say it but Thank you will always mean THANK YOU!"
"I am so happy to say thank you for everything you have done for me. Transitioning back to regular service has been a real struggle. A struggle that I know I couldn't have made on my own. Your foundation was the key to my success thus far and for that, I am for ever thankful. I still have a way to go but I am well on my way. Not to bad for someone who was told he may not ever walk again."
"I wanted to send this letter in appreciation of the chair that your organization authorized for me. The delivery of this chair has allowed me the opportunity to spend less time in my bed (until the chairs arrival I could spend 20 hours a day in my bed) and more time with my family in a normal setting. Since the IED in Afghanistan (August 24, 2008) I have suffered a great deal of pain and this chair has helped tremendously in giving comfort. Thank you and god bless you for everything you and all the staff at the Military Casualty Support Foundation for all that you do to help injured soldiers."