Our Story
The Military Casualty Support Foundation (MCSF) was founded for the benefit of our wounded heroes and their families, who have suffered an immeasurable loss by carrying
out their duties for Canada on peacekeeping missions in war-ravaged countries.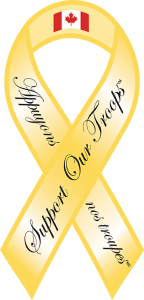 In co-operation with the Department of National Defence, our goal is to provide emergency financial relief to meet the needs of the victims of these conflicts that are beyond government programs, as expeditiously as possible. We have also raised over 1 million dollars and helped over 100 CF members.
This foundation will provide additional funding for needs such as:
psychiatric and medical care to meet the needs of the wounded, their children and/or spouses,
sports equipment for permanently wounded military to enhance their lifestyle and enable them to participate in such programs as the Paralympics,
any medical devices to improve their way of life and provide them the means to interact independently on a daily basis, and
any other requirements and/or wants as needed.
The MCSF grows through the contributions of private citizens and corporations through participation in fundraising events.